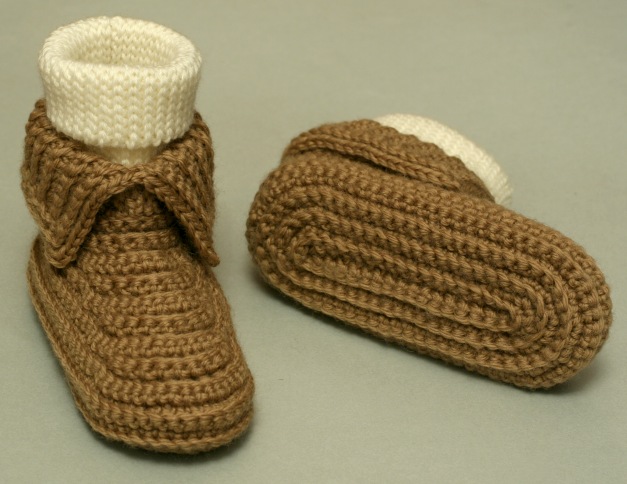 Hello fellow crafty people :)

What is a Soccasin? It is a unisex moccasin-style slipper with a built-in sock leg to keep little feet very toasty and warm. I have designed the length of the sock leg to hug the ankles when folded down but you can alter the length at will.

This pattern can also be used for a Ballet Slipper or a Slipper. If you stop at the slipper stage and put a strap around the ankle you can make Mary-Janes.

Experiment with colours and stripes (you will get vertical stripes on the sock, something you don't often see).

Bear in mind that they should be worn a little snug on the feet, sloppy slippers are not comfortable, so work on the basis of a little negative ease.

The pattern is available here.

I hope you enjoy making them... Megan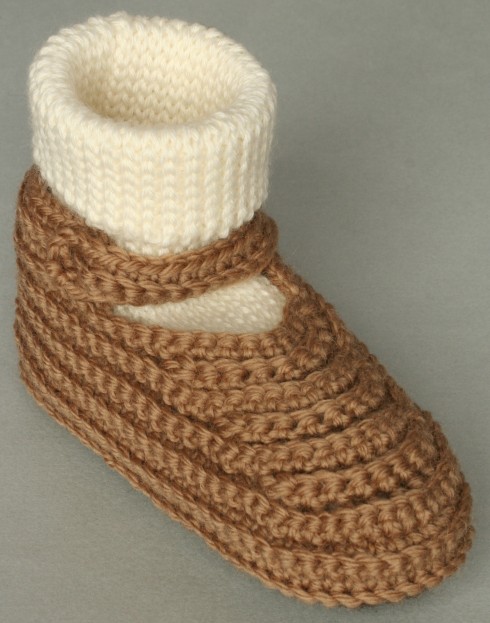 Mary Jane Style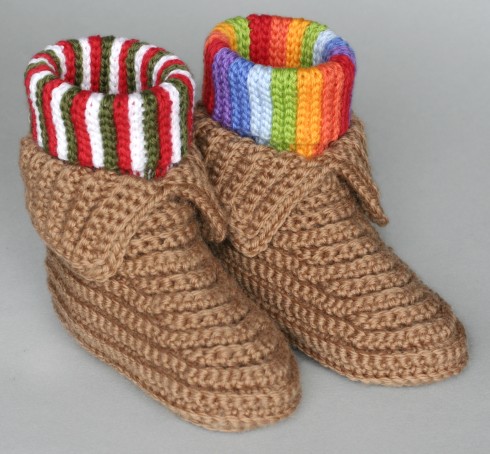 Stripey socks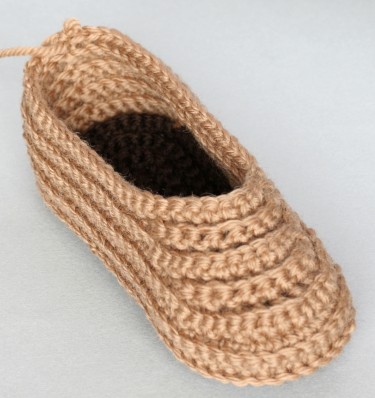 Ballet slipper stage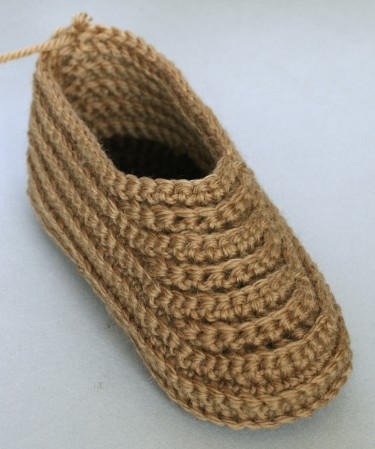 Slipper stage

Larger Sizes
Eventually I will write patterns for other sizes but as this is all just a hobby and I work full-time I don't have a clue when I'll finally get around to it (but I will, I will - I'm jolly well determined to! :-) ). In the meantime here are some suggestions.

If you need an adult's size EU 42 (US 10, 26cm) or something close to it then check out this modification by Chantal of Tante Chante:

For everything else you can get some variation by using thinner or thicker yarns and working to a smaller or larger gauge.

To vary the sizes further I recommend that first of all you make one small one in any old yarn, just to learn how the instructions create the structure. Even better, make it in the yarn you intend to use for the larger size to better estimate how many more stitches and rows/rounds are needed to get from the little size to the bigger. To make them longer make the starting chain longer and do some more rounds (increasing at heel and toe as required to keep them flat) on the soles.

Do more rounds up the sides to make them come up higher for the larger foot and then you will also find that your instep section is necessarily wider and goes on for more rows (which is just want you want).

Putting on the cuff is a matter of winging it (but should be quite easy once you've understood the principle from the little one). For the sock do more starting chain to make the sock longer and then follow the same method as for the smaller size. It will take more rows to go around but that's just what you want because it has to go around a bigger ankle.