Hello fellow crafty people. :)

"A Blanket of Roses" is a beautiful pattern, one of the loveliest of the 'rose' afghan patterns ever. However it does require you to make two different shapes, octagons and squares, to have it fit together.

You might prefer to make just one motif and this pattern was designed especially for you. The hexagons join together perfectly in good old-fashioned patchwork-quilt style and the overall effect reminds me of a magnificent rose garden - rather like Josephine's beloved Malmaison. (By the way - isn't that a funny name? To me 'malmaison' means 'bad house' yet the Chateau de Malmaison is one of France's national treasures.)

The picture above of several motifs joined together is pure magic - I mean photo magic! ;-) I didn't have time to make lots of motifs so we took lots of pictures of the same one and 'stitched' them together in the computer so you could see what to expect.

I haven't designed a special border for this (since I haven't actually made a full size afghan yet - ahem!) but it will be easy to adapt the border from "A Blanket of Roses" should you wish to put on a border.

Don't worry if you can't find the same colours or the same yarn. Just find some yarn and colours that you like. And don't worry about gauge either - whether they turn out a bit smaller or larger than mine doesn't matter. As long as yours are all the same size it will work and you just keep adding motifs until it's the size you want.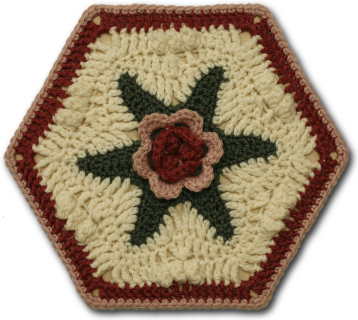 The hexagon motif measures 9½ inches (24 cm) across from point to point.
The pattern is available here.
I hope you enjoy making it... Megan